About
Legionella.org provides educational resources for anyone who has been affected by Legionnaires' disease. A nonprofit organization, we provide comprehensive answers to those who are living with the disease, clinicians, to water treatment professionals and others. Founded by internationally recognized authorities in Legionnaires' disease, Legionella.org advocates a proactive approach to prevention. Our information is based on more than 30 years of clinical and environmental research. We share our research for the sole purpose of preventing illness and death.
Victor L. Yu, MD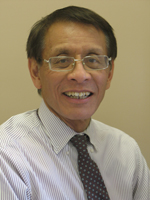 Professor of Medicine
University of PittsburghMedical Director
Special Pathogens Laboratory
Bio
Bio
Dr. Victor L. Yu heads a research team active in Legionnaires' disease for more than 30 years. This team is credited with discovering and proving that the reservoir for Legionnaires' disease was potable water (Stout N Engl J Med 82, Best Lancet 83). The team subsequently developed the most common methods for disinfection that are now being applied today including super-heat-and-flush (Best Lancet 83) and copper-silver ionization.
In addition, the Special Pathogens Laboratory team formulated the dye-containing media (Vickers J Clin Microbiol 81) and refined the approach to culture of both clinical and environmental samples (Vickers Sem Resp Infect 87, Ta J Clin Microbiol 95). Special Pathogens Laboratory has evaluated all of the accepted laboratory methodologies used in Legionella testing and devised the method used for isolating Legionella from blood in patients with pneumonia (Rihs J Clin Microbiol 85) and in patients with endocarditis (Tompkins N Engl J Med 85).
Dr. Yu was the first to suggest that the clinical presentation of Legionnaires' disease was nonspecific and that Legionnaires' disease could easily be overlooked (Yu Am J Med 82). He was the first to suggest that the actual mode of transmission is aspiration of contaminated water rather than aerosolization, as is widely assumed. In 1986, he suggested that hospital-acquired Legionnaires' disease could be prevented by using the results of routine culture of the hospital water supply to guide decision-making (Yu Curr Clin Topics Infect Dis 86). This view was uniformly rejected by public health agencies and Dr. Yu became its most forceful advocate. In 1993, the Allegheny County Health Department Guidelines Approaches to Prevention and Control of Legionella Infection were adopted for Pittsburgh hospitals. Several American states, the U.S. VA Healthcare System, and most European countries have now adopted recommendations for routine culturing of the hospital water supply.
Legionella micdadei, originally called the Pittsburgh Pneumonia Agent, was isolated in 1977. Investigators from the research team delineated the microbiology, epidemiology, clinical syndrome, and environmental ecology of this organism (Fang Medicine 89, Muder Medicine 83, Best Appl Environ Microbiol 85, Lee J Clin Microbiol 93, Muder Am J Med 83, Muder Am J Med 2000).
Awards
Awards
Distinguished Research Award for Legionnaires' Disease, National American Legion, 1982.
Research Award, Health Research and Services Foundation, Outstanding Contribution to Health Research, 1984.
Malia Memorial Lectureship, Southside Hospital, Pittsburgh, 1992.
National Institutes of Health Service Award, Board of Scientific Counselors (1987-1992) (Chair 1990, 1992).
National Library of Medicine. NIH, Bethesda, Maryland, 1992.
Barnett Berris Lectureship, Mt. Sinai Hospital, University of Toronto, Toronto, Canada, 1993.
Gold Medal Award: Outstanding Contribution to Science, Federal Executive Board, 1993. Citation of Merit. Awarded for public health contributions as a member of the Allegheny County Health Department Task Force on Legionella, 1993.
Irving Rubin Memorial Lectureship, Berkshire Area Health Education Center, MA, 1994. Outstanding Speaker Award, OSAP Research Foundation, 1995.
Who's Who in the World, 1995-2004; Who's Who in America, 1995-2010; Who's Who in Science and Engineering, 1995-2004, Marquis Press.
Best Doctors in America, 1996-2007, Woodward White, Inc., Aiken, S.C.
Sir MacFarlane Burnet Award for Outstanding Achievement in Infectious Diseases, Australasia Society for Infectious Diseases.
2003 Recipient of the Emanuel Wolinsky Award given by the Infectious Disease Society of America for the Best Original Article published inClinical Infectious Diseasesfor 2003.
Courage Fund Lectureship, Academy of Medicine, Singapore, 2009.
Publications